Credit: @sahquart on Instagram
By land, sea, and air, New York State bids farewell to summer and hello to autumn with a festive lineup of events celebrating the harvest, foliage, and so much more! Have an elevating experience in a hot air balloon in the Adirondacks and Hudson Valley, enjoy the blues by a bay in the Thousand Islands, or be part of an iconic and historic Italian street festival in New York City. That's not all: you'll also be entertained at great music and film festivals, get to see America's premier projection arts festival, and enjoy one of the northeast's best motorcycle gatherings! It's all happening in New York State in September!
Call ahead and check websites and social media to make sure attractions and amenities are open and available. Masks are encouraged, but optional in most settings per New York State guidelines. Individual businesses or attractions may require mask wearing.
Commemorate Underground Railroad Month (Various Regions)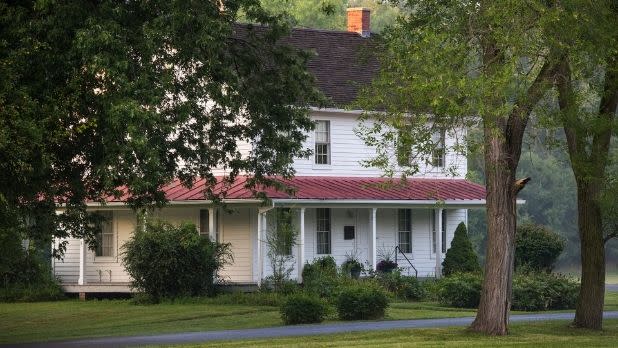 Commemorate Underground Railroad Month, which is held every September, the month that two of the most well known freedom seekers and Underground Railroad operatives, Frederick Douglass and Harriet Tubman, escaped from slavery. Visit New York's Underground Railroad system from Brooklyn to Buffalo and everywhere in between, from The Harriet Tubman National Historic Park (pictured) to the North Star Underground Railroad Museum to the Niagara Falls Underground Railroad Heritage Center to the John W. Jones Museum in Elmira, there are many ways to learn about New York State's and New Yorkers' role in the Underground Railroad. 
Attend a Hot Air Balloon Festival (Multiple Regions)
Various Dates
Take your September to new heights at two hot air balloon festivals happening this month in New York. Get ready to touch the sky with three days of family fun and excitement at the 32nd annual Hudson Valley Hot-Air Balloon Festival (September 1-3). Enjoy tethered and full hot air balloon rides ($25 and $350, respectively), live music and entertainment, a children's zone, food trucks, beer and wine tent, new amusement park rides and games, and more. Union Vale; Tickets $8.50-$27.95. Children under age 3 are admitted free, and parking is on-site and free. This year marks the 50th anniversary of the Adirondack Balloon Festival (September 21-24), one of the largest balloon events on the East Coast. Each year, the festival draws upwards of 100,000 people to witness amazing hot air balloon launchings and flights. Balloon flights occur just after sunrise or close to sunset, and do not fly throughout the day. Queensbury and Glens Falls; free admission and general parking.
Attend a Film Festival (Multiple Regions)
Various Dates 


Credit: Dion Ogust/Woodstock Film Festival
Get the popcorn ready because film festival season is here! If you love independent and thought-provoking cinema, then the Woodstock Film Festival (September 27-October 1) is made for you. Named by MovieMaker as one of its 25 Coolest Film Festivals in the World for 2023, the festival boasts an impressive roster of over 150 films, concerts, panels, and the Maverick Awards Ceremony with events happening across Woodstock, Rosendale, and Saugerties. (Prices vary) Head to Lincoln Center September 29-October 15 for the 61st New York Film Festival, a longtime spotlight of bold and remarkable works from celebrated filmmakers as well as fresh new talent. Highlights include the opening night presentation of Todd Haynes's May December, the North American premiere of Sofia Coppola's Priscilla, the closing night selection of Michael Mann's Ferrari and in-depth conversations with filmmakers, critics, curators, and more. (Prices vary)
Blues in the Bay, September 1-4; Blues Fall Craft Fair, September 2-3
Need plans for Labor Day weekend? Wrap up your summer in Alexandria Bay with a fabulous four-day music festival complete with spectacular waterfront views, a pleasurable atmosphere, and fantastic blues music! This year's performers include String of Pearls, Uncle Charlie and the Meatballs, Way-Down Wailers, Ron Spencer Blues Band, Mark Hoffman Blues Band, and Double Barrel Blues Band. But that's not all – another classic end-of-summer event is also taking place nearby, the Blues Fall Craft Fair, featuring a variety of crafts to suit all tastes. Alexandria Bay; free admission; Blues Festival takes place on upper James St.; Blues Fall craft will be held at Alexandria Bay Scenic Park pavilion.
September 2
Celebrate all things Scottish as this iconic Capital-Saratoga region festival returns to the Altamont Fairgrounds with live music, dance performances, bagpipes, Scottish cuisine, and much more. Featured events and activities include piping and drumming solo competitions, highland athletics, a highland fun zone, a petting zoo, a Scottish kids zone, and delicious food and beverages. Altamont; $24 at the gate; children 12 years of age and younger admitted free. Veterans and active military will save 50% on gate admissions by showing ID cards at the gate; these discounts are available only on the day of admission and only to the veteran or active service member.
Celebrate New York State Grapes (Multiple Regions)
Various Dates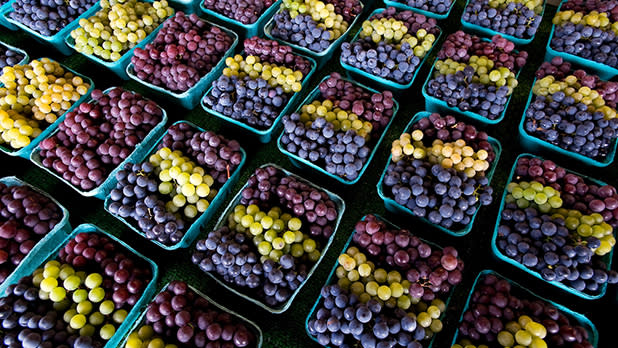 Are you ready to have a grape time this September? Immerse yourself in a celebration of grape growing and harvesting while indulging in a wide selection of award-winning wines at the Westfield Grape and Wine Festival, happening at two locations in the Chautauqua-Allegheny region (September 2). Uncover unique treasures at the Westfield Farmers' and Artisans' Market and explore the fascinating world of grapes at the Grape Discovery Center where you'll learn about the art and science of grape cultivation, the rich history behind the region's vineyards, and the intricate process of winemaking. Westfield; free admission. Don't miss everyone's favorite Naples Greatest Grape Pie Contest at the Naples Grape Festival (September 23-24), often recognized as "The Best Festival in the Finger Lakes." The popular Brahm Moore Beverage Garden and Music Tent with featured act Chris Trapper will keep you rocking and smiling all weekend long! Naples; free admission, parking is $5 per car.
September 2-3
Join in the celebration of Iroquois creativity and self-expression at this fascinating festival featuring an all-Iroquois Art Market (open to Iroquois artists by invitation only) showcasing both traditional and contemporary arts and fine crafts. The Sky Dancers from Six Nations Reserve in Ontario will perform traditional Iroquois social dances, and may even invite you onto the dance floor to participate! Onondaga storyteller Perry Ground will also be on hand with dramatic tales of daring feats and astounding adventures. There will be crafts for kids, a discussion on wildlife conservation, and the Iroquois Museum's archeology department will be on hand to demonstrate flintknapping and other early technologies. Howes Cave; $10 adult ($8 for museum members), $5 children ($4 museum members' children).
September 2-3
Labor Day weekend in Buffalo means it's time to celebrate one of America's favorite foods. More than 25 restaurants from across the country are coming together to honor the invention of Buffalo's hometown delicacy at the annual National Buffalo Wing Festival. You'll taste unique spins on Buffalo wings from all over the country, from Carolina barbecue with a vinegar tang to a hot southwestern Arizona style. Festival events include the Amateur Wing Sauce-Off, Amateur Wing Eating Championship, Bobbing for Wings, Baby Wing Contest, USA Wing Eating Championship, and the Celebrity Influencer Sauce-Off. There will also be live music from Rusty Nickel, a "kids zone," and cooking demonstrations. Buffalo; general admission is $20 per day, and children 8 and under are free. Chicken wings must be purchased with food tickets, which cost $13.95. Attendees will receive a sheet of 10 tickets, with one ticket equivalent to one wing; cash only.
September 4-17
From new takes on established classics to star-studded modern masterpieces, Broadway is the pinnacle of live theater. No visit to New York City is complete without experiencing the rousing entertainment available in midtown Manhattan's theater district. During New York City Broadway Week, you can enjoy the best of Broadway with 2-for-1 tickets to participating shows. Choose from musical sensations, exquisitely staged dramas, critically acclaimed Tony Award winners, family-friendly productions, comedies and celebrity spotlights. It's a great time to experience world-class entertainment while saving big on the best of Broadway! New York City; various locations and prices.
September 8-9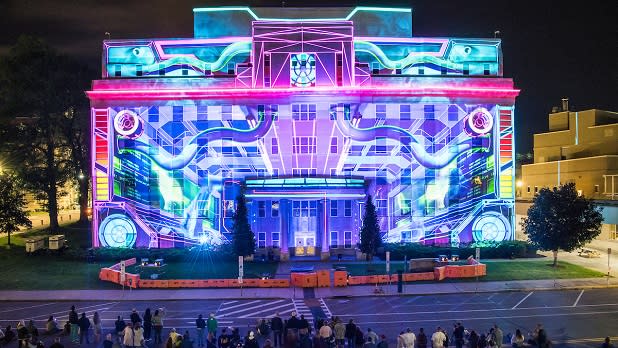 Prepare to be amazed as LUMA, America's premier projection arts festival, returns to transform Downtown Binghamton's buildings into creative masterpieces with the use of powerful light projectors and 3D animation in a stunning visual arts display. With the projected light overpowering the city's architecture, the effects give you the feeling of going to a giant outdoor art gallery where the paintings tower over you six stories high! You'll see enormous structures transforming as if by magic, with City Hall turning into a gingerbread house and the courthouse becoming Stonehenge. You can enjoy the displays in any order you choose at your own pace. Binghamton; most features are completely free to the public; some advanced tickets required. 
September 8-10
Prepare yourself for an unforgettable journey that engages your mind, body, and soul, leaving you with cherished memories that will last a lifetime. At the Fire Lights Festival, you'll enjoy a weekend filled with music, flow art performances, and one-of-a-kind art installations in an iconic venue that has a long history of bringing people together for unforgettable experiences. Back for its third year and taking place at Blue Heron Grounds, the festival features a diverse lineup of jam bands, bass music, and other genres, with electrifying sets by headlining acts as well as intimate performances by up-and-coming artists. The festival also features mesmerizing fire and flow art performances, interactive art installations, live painting sessions, yoga and meditation classes, and more. Be part of the festival's welcoming and inclusive community and connect with others who share your passions and interests. You'll find the festival to be a safe space for you to express yourself freely, form new friendships, and create lifelong memories. Sherman; $25 – $185.
September 9
For 18 years, this music festival has featured a wealth of jazz greats, critically acclaimed up-and-coming artists, and local favorites at one of the area's most spectacular venues. This all-day concert features world-class music, great food and beverages. The festival is perfect for all ages, and, best of all, admission is free! Cap off the day by sticking around for spectacular fireworks at 8 p.m.! Albany; free admission.
September 9-10


Credit: Hudson Valley Wine & Food Fest
It's going to be a wine lover's perfect weekend in the Hudson Valley when hundreds of wineries, cideries, distilleries, and breweries, along with some of the region's best restaurants, come together at the Dutchess County Fairgrounds. This annual event features hundreds of New York wines, more than 100 gourmet specialty foods, lifestyle vendors, food sampling, and live entertainment. You'll also enjoy cooking demos and seminars, and have the chance to meet and speak to winemakers from some of the state's best wineries. Rhinebeck; Pre-sale prices: Saturday and Sunday One-Day Tasting Tickets, $40 each day; Weekend Tasting Ticket, $75; One Day Designated Driver Ticket, $18; Weekend Designated Driver, $27; VIP One Day Tasting Ticket, $73. A $4.50 service fee will be added to all pre-sales. Gate prices: Tasting Ticket – One Day $50/Weekend $90; VIP Tickets – Limited Availability – One Day $99; Designated Driver Ticket – Gate Price – One Day $25/Weekend $45.
September 12-23
Since its inaugural year in 2012, the Rochester Fringe Festival has become one of the fastest-growing and most-attended fringe festivals in the U.S. and the largest multi-arts festival in New York State, drawing more than 650,000 visitors from all over the world to more than 4,500 diverse performances and events. The festival, a 12-day, all-out, no-holds-barred, multi-disciplinary visual and performing arts event, features more than 500 shows in downtown Rochester, and showcases a vast variety of theater, comedy, visual arts, family entertainment, music, dance, opera, spoken word, film, and everything in between. On September 23, the festival's annual free Kids Day will feature family friendly activities like pumpkin painting, chalk art and Disco Kids. Rochester; free and ticketed events.
September 13-17
Start revving your engines for one of the best motorcycle festivals in the northeast! With its scenic motorcycle rides, motorcycle games, bike-build offs, motocross stunts, spaghetti wrestling, and even fire breathing, the Catskill Mountain Thunder is a guaranteed good time. From shopping the huge vendor expo to enjoying live entertainment with headlining bands Drowning Pool, Adelitas Way, and Saliva, this special gathering truly offers something for everyone! East Durham; prices vary.
September 14-24
Get ready for the feast of all feasts as an iconic and historic street festival which dates to 1926 and stretches throughout 11 blocks of Manhattan's Little Italy neighborhood returns in September! While at the Feast of San Gennaro, you'll be able to enjoy delicious food at some of the best Italian restaurants in the city, and see free concerts, the world-famous cannoli eating competition, and colorful parades, including the Grand Procession featuring marching bands, floats, and the statue of San Gennaro. This year's Grand Marshal is actress Kathrine Narducci. New York City; free admission.
September 16
Downtown Albany's biggest all-day free music festival is back! Jam to live music, find your zen at Yogapalooza, and grab a bite to eat from local vendors in the heart of downtown Albany as this all-ages festival, featuring a diverse lineup of acclaimed local and international performers, returns to North Pearl Street, just steps away from some of the city's finest dining, retail, and entertainment establishments.  Albany; free admission; $5 event parking is available at ParkAlbany's Riverfront Garage (Broadway & Columbia Street) and Quackenbush Garage (Orange Street between Broadway & Water Street).
September 22-November 5
Halloween lovers are getting ready for Long Island's most electrifying fall event – the Great Jack O'Lantern Blaze, taking place at Old Bethpage Village Restoration. After strolling the immersive pumpkin trail past 19th-century buildings and through historic barns, you'll find yourself in a fall wonderland with more than 7,000 hand-carved and colorfully lit jack o'lanterns. Find your favorite legendary local icon in the Hall of Fame, gaze in wonder at the Pumpkin Planetarium, see larger-than-life sea creatures and watch your head as an animated Headless Horseman rides into the night! Complementing the experience is an all-original soundtrack and synchronized lighting, and a gift shop with exclusive souvenirs and local finds. Proceeds from ticket purchase support the education and preservation efforts of Old Bethpage Village Restoration. Old Bethpage; tickets start at $19 for children, $29 for adults.
September 23
Fall is just around the corner and that means it will soon be time to celebrate the arrival of harvest season in the Adirondacks! Held at the Essex County Fairgrounds, the Adirondack Harvest Festival, which began in 2016, features a farmers' market, farming demonstrations and talks, food trucks, hands-on activities for kids and adults, local craft beer, live music, hiking along Champlain area trails, farm animals, draft horse and wagon rides, presentations by 4-H groups, and horse barrel racing (a rodeo event in which a horse and rider attempt to run a cloverleaf pattern around preset barrels in the fastest time). Don't miss this great opportunity to revel in one of the Adirondack region's most colorful (and delicious) seasons! Westport; free admission.
September 23
For an uplifting seasonal celebration, head to the village green in Cape Vincent for their annual Oktoberfest. At this fun family event, you'll enjoy an Autumn Farmers and Crafters Market, a kids' section, and a beer garden featuring samples of authentic German beer and tastings from a New York State winery. Hungry? No problem! The fest will feature a wide variety of traditional Bavarian fares including pretzels, bratwurst, sauerkraut, braised red cabbage, German potato salad, apple strudel and Hoffman hot dogs sold by the Cape Vincent Fire Department.  Cape Vincent; free admission.
September 23-24


Credit: @jelizh8r on Instagram
Ahoy! It's time for all mariners and mariners-at-heart to gather for this family friendly festival celebrating Greenport's maritime history featuring live music, Irish step dancing, a snapper fishing contest, 100 great vendors featuring hand crafted and unique items, children's games, and craft and maritime demonstrations. You'll also enjoy kayak races, the US Coast Guard tent, the Merry Merfolk contest, roving sea shanties from the Johnson Girls and Chris Koldewey, wine and beer tastings, delicious food, and more. Be sure not to miss the festive Merfolk Parade on Saturday, where people of all ages are welcome to dress up as mermaids, pirates and sea creatures. Kick off the celebration the day before the festival at the Land & Sea Gala sponsored by Claudio's of Greenport at Crabby Jerry's! Greenport; free admission to festival; Land & Sea Gala general admission at 6:30pm $175/person; VIP Early Access at 5:30pm $225/person; upgrade to VIP (per person) $50.
September 30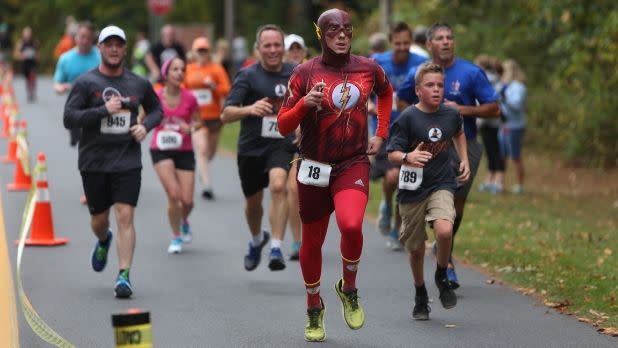 Credit: Saratoga Bridges
Head to Saratoga Spa State Park for a great chance to get healthy while running, walking, or moving at a fun family-friendly event celebrating the fall season. Be one of the first 1,500 participants and you'll receive a moisture wicking T-shirt. The day will be filled with costume and pumpkin contests, prizes for overall winners and top runners in each age group, plus treats galore! Saratoga Springs; $25 registration fee to participate. Online signups are being accepted now through Tuesday, Sept. 26 at 5pm. After Sept. 26, registration will only be available in person at Saratoga Bridges Administrative Building on 16 Saratoga Bridges Blvd in Ballston Spa. The days and times will be Thursday, September 28th from 12 p.m. to 7p.m. and Friday, September 29th from 9a.m. to 4pm. After Tuesday, September 26th, registration will increase to $30 per person. No day of registration will be available.
September 30 – October 1
Experience and celebrate New York's incredible fall foliage season amid towering rocks, deep crevices, passageways, and small caves hidden in an ancient, moss-covered forest! Taking place at Panama Rocks Scenic Park, this fall festival features an art and craft show, live entertainment, mouth-watering food, a costume contest, and seasonally-themed activities like trick-or-treating, face painting, pumpkin painting, and more! Panama; admission to the art & craft show and musical entertainment is free-of-charge; admission to explore Panama Rocks is the normal admission rate. Street parking is free and field parking is $5 per vehicle.
September 30 – October 1
Ever tried garlic ice cream? How about spicy garlic peanut butter? Well if not, you're in for a treat at the two-day Hudson Valley Garlic Festival. The festival features a "garlic marketplace" with gourmet garlic-infused foods with everything from garlic sausage and hot sauce to more adventurous foods like garlic chocolate. This grand celebration of the "stinking rose" also features live music, cooking demos and lectures, fine art and craft vendors, and a children's activities tent. Just be sure to pack some breath mints for this one. Saugerties; $8 – $15.
---
Don't forget to post photos of your New York adventures on Instagram, TikTok, and Twitter with #iSpyNY and tag us on Facebook!