The Future Smells Like Chanel No. 5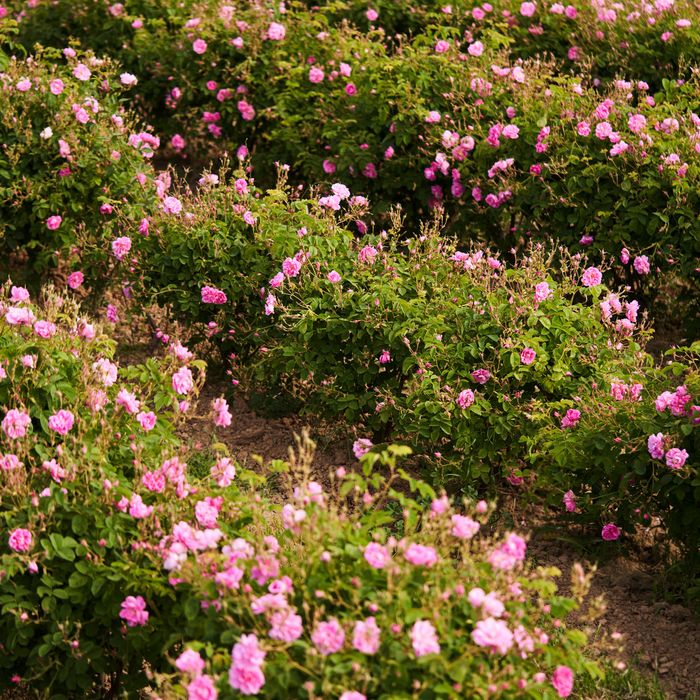 Photo: Courtesy of CHANEL
"Comme cá," said Joseph Mul, the farmer responsible for harvesting the flowers that make up vital components in most of Chanel's perfumes, holding up a rose he had just picked. At 11 a.m. on a recent May afternoon, Mul was showing a group of journalists and influencers, there for a yearly trip, how to properly pick a flower. (For the record, you put it in between your two fingers, gingerly twist, and snap.)
Over the past 100 years, Chanel has been preoccupied with what comes next — scent-wise. So much so that in 1987 the brand built a partnership with the Mul family, who have run a floral-farm business in Grasse, France, for generations. The goal was to ensure that it could have control over all steps of the perfume-making process, from planting blooms including roses, jasmine, and iris, to harvesting them and capturing their scent molecules to turn into oils for its Chanel No. 5 fragrance. Chanel erected a factory on the farm grounds, the first of its kind, just under a five-minute drive from the roses so there could be no deterioration of the flower in its journey from ground to bottle.
From left: Fabrice Bianchi, Jospeh Mul, and Olivier Polge
Photo: Courtesy of CHANEL
When March 2020 happened, Chanel was prepared (well, as prepared as any business could be for a pandemic), even though, as the brand's head perfumer Olivier Polge told us, "it was the first time since World War II that we closed our factories." Because of its pivot toward self-sufficiency, it was able to recover quickly and open its factories again.
Today, it is focusing on the future by preserving the present. At one point during our afternoon, Mul pointed out an orange fungus on some of the roses. Because his farm is organic, they refuse to just blast it with fertilizer. Instead, they've come up with a different, two-pronged approach. First, they allow nature to do its job by maintaining grass to attract aphids, an insect that ladybugs and others feed off of, which keeps the ecosystem's balance, hence helping with the fungus. And second, they introduced something a bit more experimental: They play piano notes to the roses. "We perceive it as music, but plants perceive it as frequency," said Mul. According to him, they've observed a positive effect on the roses, boosting their immune system and allowing them to ward off the fungus better. They've been trying this method for a year and plan on testing it for the next two years to notice the effectiveness. They are optimistic: "We can already see that something is happening."
Inside the Chanel factory.
Photo: Courtesy of CHANEL
The next set of questions Polge and others at Chanel are answering is how the lingering aftershocks of the pandemic will change the way people interact with scent. Take, for example, a common greeting in France: "We used to kiss everyone on the cheeks to say hi and today, it's just a wave," said Polge. If people aren't getting close anymore, how do you discover someone's scent? "We are asking ourselves these questions. If you don't go into the store to touch the bottles and you don't want to put your nose where three people have put their nose before you; how can we adapt the discovery of our scents in a public space?"
So how has a pandemic, harvesting different flowers, and innovation in sustainable methods of farming changed the scent that was created by Gabrielle Chanel over 100 years ago? Polge responded: "As little as possible."
The May rose.
Photo: Courtesy of CHANEL