Entertainment
The 30 Best TV Shows on Max (Formerly HBO Max): August 2023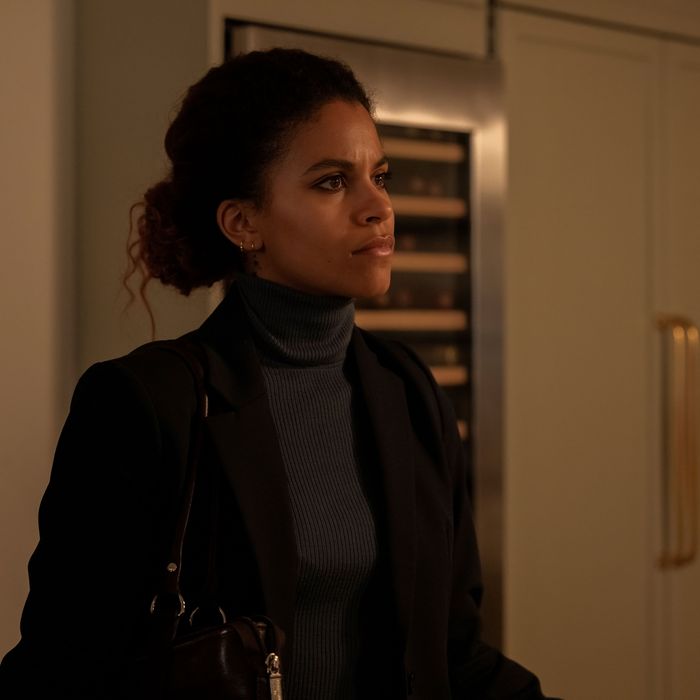 This article is updated frequently as titles leave and enter Max. *New additions are indicated with an asterisk.
While the headlines have been more about how HBO Max is changing into Max in the wake of Warner Bros.' merger with Discovery, there's still so much television greatness on the revised streaming giant. It helps to have the (mostly) the entire catalog of the best cable company in history to pull from to populate a streaming service. HBO changed TV, and they're using the power of that legacy to try and change streaming too. To keep this list in check, we decided to limit it to shows that are all wrapped up: either mini-series or multi-season shows that have aired their finales. So, yeah, you can use Max to catch up on The Last of Us and Succession too, but they won't be on here until they're done. (Although ongoing Max originals like Hacks are included.) Expect regular updates with new gems.
Year: 2023
Length: 1 season, 6 episodes
Creator: Ed Solomon
Director Steven Soderbergh reunites with collaborator Ed Solomon (No Sudden Move) on this 6-part mini-series about a kidnapping gone very wrong. Claire Danes and Timothy Olyphant play the parents of a boy who's kidnapped, except the kidnappers get the wrong kid. What would you do to save another kid is the first question of a series that spins its way back and forth in history in a captivating manner. Jharrel Jerome, Dennis Quaid, CCH Pounder, Jim Gaffigan, and Zazie Beetz round out one of the best ensembles of 2023.
Year: 2001
Length: 1 season, 10 episodes
Creators: Tom Hanks, Steven Spielberg
One of the best limited TV series of all time, 2001's Band of Brothers was a momentous achievement, something that really doesn't get the attention it deserves for shifting the TV landscape. This landmark in the medium was created by Tom Hanks and Steven Spielberg, adapted from the WWII history book of the same name by Stephen E. Ambrose, and it's quite simply one of the best things that ever aired on TV. Pay tribute to the brave men who fought in WWII in this deeply personal, moving blend of history and filmmaking.
Years: 2018-2023 
Seasons: 4
Creators: Alec Berg, Bill Hader
When it premiered, who could have expected that Bill Hader's first HBO series would be one of the best in the history of the network? The SNL star plays Barry Berkman, a hitman who ends up in Hollywood when a job drops him there. Somehow, this show that started off promising fulfilled all of its potential, getting more ambitious and brilliant with each season. The TV landscape won't be the same without it.
Years: 2009-2014
Length: 5 seasons, 56 episodes
Creator: Terence Winter
After The Sopranos, one of that show's most prominent voices, Terence Winter, teamed up with Martin Scorsese to adapt Nelson Johnson's non-fiction book about the chaos of the prohibition era. It's a mesmerizing drama that hits some peaks that are as high as anything that was on HBO at the time. Steve Buscemi stars as Nucky Thompson in one of the most lavishly detailed period dramas ever to air on television. Buscemi is great, but this one hums because of its supporting cast, including great turns from Michael Shannon, Shea Whigham, Michael Stuhlbarg, Michael Kenneth Williams, and, most of all, Jack Huston.
Year: 2019
Length: 1 season, 5 episodes
Creator: Craig Mazin
Before The Last of Us, Craig Mazin helmed one of the most acclaimed miniseries of all time in this five-part drama that horrifically details the failure of a world power to respond to an international crisis. It was downright prophetic and feels even more urgent now in the era of Covid and the War in Ukraine. Jared Harris, Emily Watson, and Stellan Skarsgard earned worldwide raves for their work here in a drama that perfectly balances sociopolitical commentary, relatable performances, and historical detail about a disaster made worse by the governmental response to it.
Years: 2004-2006
Length: 3 seasons, 36 episodes
Creator: David Milch
One of the best television shows of all time returned to HBO in 2019 over a decade after its cancellation in the form of Deadwood: The Movie. If you're wondering why fans were so excited to revisit David Milch's Western, now is the time for an education. This is one of the smartest, deepest shows in the history of television, a program that takes what we think we know about history and the Old West and uses it to tell human stories that resonate today. It's also got arguably the best overall ensemble in TV history.
Years: 2011-2013
Length: 2 seasons, 18 episodes
Creators: Mike White, Laura Dern
With Big Little Lies and Marriage Story, everyone finally fell in love with Laura Dern. It was about time. If you're late to the Dern Train, do yourself a favor and check out her brilliant character work as Amy Jellicoe on Mike White's two-season dramedy from over a decade ago now. Dern and White completely reinvented the cliché of the character who hits rock bottom with this razor-sharp dramedy, which co-stars Luke Wilson, Diane Ladd, Jason Mantzoukas, Robin Wright, Molly Shannon, and Dermot Mulroney. It's a shame we only got two seasons, but they're both perfect.
Years: 1994-2009
Length: 15 seasons, 331 episodes
Creator: Michael Crichton
It's hard to explain to young people how massive this NBC hit was in its prime. People now may write it off as a standard medical drama, but this was must-see television that transcended its old-fashioned structure to perfectly balance character work and moving case studies. It won 23 Emmys (along with almost 100 other awards), and made George Clooney a star. And it's so easily rewatchable, a perfect drama for a streamer like Max.
Year: 2020
Length: 1 season, 12 episodes 
Creator: Michaela Coel
Arguably the best thing to air on TV in all of 2020, this mini-series stars Michaela Coel (who also wrote and co-directs the show) as Arabella, a modern young woman who is raped one night, and spends the series trying to piece together the details about what happened to her. The masterstroke here is one of tone with Coel never taking her subject matter anything less than seriously but also not leaning into traditional melodrama or case-of-the-week clichés. She taps into something modern and true in this moving, funny, riveting experience.
Years: 2014-2017
Length: 3 seasons, 28 episodes
Creator: Damon Lindelof, Tom Perrotta
One of the best shows of the 2010s is this Damon Lindelof adaptation of the book by Tom Perrotta. It only ran for three seasons, but it had such an impact on those who watched it that it made most lists of the best dramas of the last decade. This is a show that people are going to discover and rediscover for years to come and will soon be recognized among the best in HBO history, if it's not already.
Years: 2014-2015
Length: 2 seasons, 20 episodes
Creators: Jack Amiel, Michael Begler
There have been rumblings that this landmark drama will return soon under the guidance of Barry Jenkins. He's reportedly going to bring the great Andre Holland back as Dr. Algernon C. Edwards, continuing the story that abruptly ended when Cinemax canceled this critical darling back in 2017. Go back and watch the first two seasons and marvel at one of the smartest shows of the 2010s. Clive Owen plays a doctor at the turn of a medical revolution. His arc is fascinating, but it's the world-building and richness of the entire ensemble that made this show so memorable.
Year: 2021 
Length: 1 season, 7 episodes
Creator: Brad Ingelsby
Kate Winslet does some of the best acting work of her career as a Philly detective investigating a murder in her small town while battling the demons of the unsolved case that haunts her. Winslet won an Emmy for her work in a show that also won Outstanding Supporting Actor for Evan Peters, Outstanding Supporting Actress for Julianne Nicholson, and Outstanding Limited Series. It's a perfectly calibrated mix of mystery and character work. One only wishes there were more shows like it.
Year: 2016
Length: 1 season, 8 episodes
Creators: Richard Price, Steven Zaillian
There have been dozens of similar projects since its release, but this Richard Price and Steven Zaillian project about failures of our justice system and how it can turn innocent men into criminals seems even more relevant now. Riz Ahmed plays a Pakistani-American young man suspected of a murder he clearly didn't commit, and John Turturro plays the attorney who tries to defend him before custody at Rikers Island destroys him. A modern drama masterpiece.
Years: 1997-2003
Length: 6 seasons, 56 episodes
Creator: Tom Fontana
HBO's reshaping of the TV landscape didn't start with The Sopranos. While David Chase's wildly successful show often gets credit as an influencer, it feels like not enough people recognize that Tom Fontana's Oz came before it and was really one of the key programs to make it clear that "It's not TV, it's HBO" was more than just a slogan. Still a program that would be powerful and searing if it aired two decades later, Oz is one of the cable network's most essential building blocks.
Years: 2007-2009
Length: 2 seasons, 22 episodes
Creator: Bryan Fuller
The creator of Hannibal also gave us this twisted genre gem, a show that blended morbid humor and genuine character work into a mix that was just too weird for ABC. Lee Pace is fantastic as Ned, an ordinary pie-maker who just happens to be able to resurrect dead things with his touch. Working with characters played by Anna Friel, Kristin Chenoweth, and Chi McBride, Ned solves murder mysteries in a show that was unlike anything else on TV then or now. It's a gem.
Years: 2001-2005
Length: 5 seasons, 63 episodes
Creator: Alan Ball
Peter Krause headlined this HBO drama from Alan Ball that incorporated issues of family and grief in ways that television hadn't really done before. Sure, there had been family dramas on network TV for generations but none that explored the issues of how much family ties can bind with the adult flavor of what was often one of the best shows on TV. Ball and co. couldn't quite keep the quality level up for the entire run, but they did stick the landing with one of the best series finales of all time.
Years: 1999-2007
Length: 6 seasons, 86 episodes
Creator: David Chase
Often cited as the best TV show of all time, David Chase's award-winning masterpiece can truly be credited with altering the landscape forever. Who knew when Tony Soprano sat down to talk to his therapist about panic attacks that a cultural phenomenon would come from it? The first season of The Sopranos is a perfect season of television. Just watch it and try not to be hooked enough to watch it all. Maybe even twice.
Years: 2018-2023
Seasons: 4
Creator: Jesse Armstrong
Maybe you've heard of it? The most acclaimed HBO show since the end of Game of Thrones, this drama only got more popular with each passing season, ending at the top of its game in 2023. Its final season has become one of the most Emmy-nominated in history, as creator Jesse Armstrong concluded the story of the Roy family (at least for now) with a hysterical, moving season.
Years: 2002-2008
Length: 5 seasons, 60 episodes
Creator: David Simon
Television doesn't get more ambitious than David Simon's five-season examination of life in a modern city. Using Baltimore as his template, Simon looks at every aspect of urban life, starting with what first seems like a simple-but-smart look at cops and criminals and expanding the canvas to include dock workers, educators, journalists, and politicians over the course of the series run. There's a reason some people consider this the best show in the history of television.
Years: 1994-2004
Length: 10 seasons, 236 episodes
Creators: David Crane, Marta Kauffman
One of the things that put Max on the map was gaining exclusive streaming rights to one of the biggest comedies of all time. A previous smash on Netflix, this is just a perfect show for streaming. It's easy to zone out to the familiar comedic rhythms of Ross, Rachel, Chandler, Joey, Monica, and Phoebe. Some of the comedy is undeniably dated now, but it's easy to still appreciate the chemistry of this incredible cast.
Year: 2021-present
Length: 2 seasons, 18 episodes
Creators: Lucia Aniello, Paul W. Downs, Jen Statsky
Star Jean Smart is two-for-two on Emmy wins for Best Actress in a Comedy for this Max series about an aging comedienne who is partnered with a writer from a different generation (the underrated Hannah Einbinder) to rejuvenate her career. Smart is the center of a show with very smart writing in every episode, and she's giving one of those all-timer performances, perfectly capturing the blend of ego and insecurity that comes with aging in Hollywood.
Years: 2012-2019
Length: 7 seasons, 65 episodes
Creator: Armando Iannucci
When people write the history books about television comedy, Julia Louis-Dreyfus's performance as Selina Meyer will need its own chapter. When someone dominates a genre so much that they win multiple Emmys, it can often feel like overkill, but it's impossible to deny that JLD has deserved every single one. Her comic timing here is literally perfect, and she's supported by one of modern TV's best ensembles too.
Years: 2010-2018
Length: 10 seasons, 283 episodes
Creator: Pendleton Ward
There's a lot of excellent animation on Max, but the best option might be this incredibly creative and progressive fantasy series from the great Pendelton War. Airing on Cartoon Network for most of the 2010s, it's the story of a boy named Finn and a dog named Jake, who live in the Land of Ooo with creatures of all kinds. It's a wonderfully creative show that never talks down to children, choosing instead to engage them with complex ideas and surreal visuals.
Years: 2008-2013
Length: 5 seasons, 100 episodes
Creators: J.J. Abrams, Alex Kurtzman, Roberto Orci 
After the massive success of Lost, J.J. Abrams delivered his riff on The X-Files in this smart, creative sci-fi show on FOX that never really became a huge hit but developed a very loyal fan base. Anna Torv (recently seen in The Last of Us) plays Olivia Dunham, an FBI agent who becomes involved with a mad scientist named Walter (the spectacular John Noble) and his troubled son Peter (Joshua Jackson). They work in the Fringe Division of the FBI, where, well, weird things happen.
Years: 2011-2019
Length: 8 seasons, 73 episodes
Creators: David Benioff, D.B. Weiss
It ended in a flurry of thinkpieces and complaints but there are definite peaks in the run of Game of Thrones, particularly in early seasons. And now you can sit back and take in the entirety of this fantasy epic, something that feels a bit like an end of a TV era. Our very own Matt Zoller Seitz even suggested as much when the finale ran. Will there ever be another Game of Thrones? There certainly isn't one yet (although The Last of Us came close).
Year: 2019-present
Length: 3 seasons, 37 episodes
Creators: Justin Halpern, Patrick Schumacker, Dean Lorey
While the DCEU has been collapsing in box office misfires, set conflicts, and general misery, too few people have been watching a legitimately great project with DC Comics origins. Created by the legendary Paul Dini and Bruce Timm, this animated series for adults leans into the dark humor of its title character, and often reaches for something even deeper regarding trauma and gender roles. It's fun and smart at the same time — two words that don't apply to a lot of comic-based shows lately.
Years: 2021-2022
Length: 1 season, 10 episodes
Creator: Patrick Somerville
Deep in the peak of a variant spike in the pandemic, Max dropped its best original offering to date, a timely examination of the need for hope in a decimated world. Mackenzie Davis stars in the story of what happens after the end of civilization, which may have seemed too familiar or too current for some people, but this is a remarkably rewarding examination of the power of connection and the need for expression, even after everything has fallen apart. We need to put some things back together to stay sane.
Years: 2006-2011
Length: 4 seasons, 41 episodes
Creator: Russell T. Davies
In 2006, Russell T. Davies spun this series off from his reboot of Doctor Who, and it was actually a better show for most of its run. More aimed at adults, Torchwood was a complex and progressive series about a team of alien hunters who just happened to be based in Cardiff, and it features a lead performance from John Barrowman that really should have made him a massive star.
Year: 2019
Length: 1 season, 9 episodes
Creator: Damon Lindelof
One of the best shows of 2019 was this Damon Lindelof mini-series adaptation of the classic graphic novel by Alan Moore and Dave Gibbons that serves more as a sequel than a classic interpretation. Regina King is mind blowing as a Tulsa police officer thrust into an investigation about the death of her superior that leads her to confront the very racist past of our country. Visually striking and thematically powerful, this is about as good as TV gets.
Years: 2013-2018
Length: 12 seasons, 104 episodes
Creator: Anthony Bourdain
More than just another travelogue, this empathetic show featured the legendary chef Anthony Bourdain travelling the world, going to places not often seen on television and exploring their cultures through their cuisine. Bourdain was taken from us far too soon but there are over 100 episodes of this great show on Max to further cement his legacy as one of humanity's most empathetic traveling correspondents.
Source link