Gambling
President Joe Biden Doubles Down on Combatting Junk Fees
Posted on: September 24, 2023, 12:34h. 
Last updated on: September 24, 2023, 12:34h.
President Joe Biden this weekend tweeted again about so-called "junk fees" that are commonly tacked on to a reservation or ticket purchase at the end of the booking process. In the US gaming industry, such add-ons primarily deal with resort fees, which are common throughout Las Vegas casinos and at many regional gaming properties.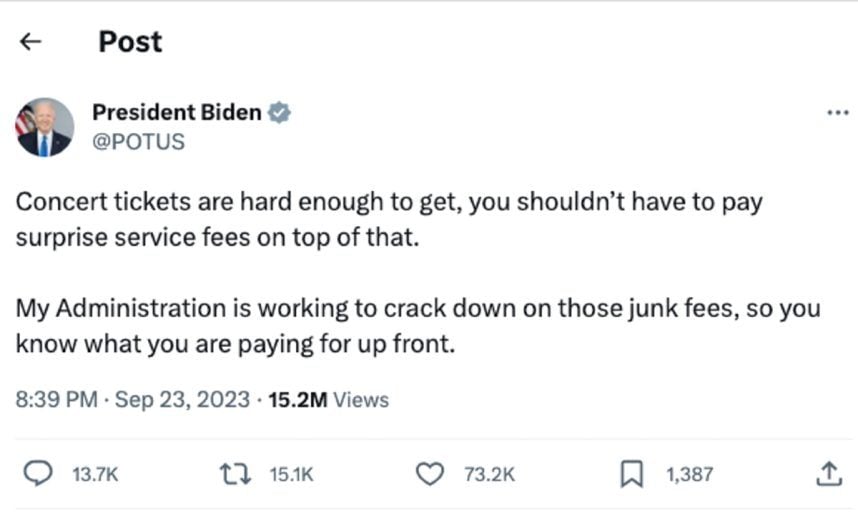 Resort and junk fees often make a stay or event considerably more expensive than the price initially advertised. Biden and other federal lawmakers believe such practices deceive consumers and result in them spending much more than they intended.
With inflation continuing to keep costs for most goods and services elevated from just a few years ago, the president doubled down on combatting misleading online pricing schemes.
Concert tickets are hard enough to get, you shouldn't have to pay surprise service fees on top of that," the president tweeted on X. "My Administration is working to crack down on those junk fees so you know what you are paying for up front."
In October 2022, Biden first announced his support to rid of junk and resort fees from the hospitality and entertainment industries. At the time, he said he would be instructing the Federal Trade Commission to "work on a rule to crack down on unfair and deceptive fees across all industries."
The president also referenced resort fees during his February State of the Union Address where he told the nation that his administration would make it a priority to "ban surprise resort fees."
No Movement on Federal Bill
In July, bipartisan legislation from Sens. Amy Klobuchar (D-Minnesota) and Jerry Moran (R-Kansas) was introduced to Congress. The Hotel Fees Transparency Act (S.2498) seeks to require that hotels and resorts include resort fees and any other charges aside from taxes in their advertised rates.
"Too often, Americans making reservations online are being met with hidden fees that make it difficult to compare prices and understand the true cost of an overnight stay," the senators said in a joint statement.
Klobuchar and Moran's bill was directed to the Senate Committee on Commerce, Science, and Transportation where it has since stalled. Though Klobuchar and Moran both sit on the committee, so does Sen. Jacky Rosen, a Democrat from Nevada who represents Las Vegas and the casinos that keep Nevada's economic engine running.
The gaming industry, represented by the American Gaming Association, opposes requiring casinos to include resort fees in their advertised nightly rates. Rosen says she supports transparent pricing but also stresses that casinos and resorts in her home state are already being upfront in their booking policies.
Nevada US Sen. Catherine Cortez Masto (D) and Rep. Dina Titus (D) also support transparent pricing. But they say legislation should be more focused on ticket charges — not casinos and hotels.
I'll make sure this administration's proposals stay focused on eliminating surprise fees — not punishing our world-class hotels and casinos for charges they already disclose up front," said Cortez Masto.
Nightly resort fees at luxury Las Vegas casinos cost as much as $45 plus tax.
Bigger Problems
Many followers of Biden's X account questioned if the president knows there are more pressing matters facing the country.
People can't afford groceries. How are they going to afford concert tickets?" asked one X user.
"Yeah, the concert ticket fee crisis is destroying families right now. Thanks for taking a stand," said another in jest.
"I legit thought this was a parody account," said another.
Source link